Enterprise Mobility Management for Any Device, Endpoint and Business Need
SOTI MobiControl is the Enterprise Mobility Management (EMM) solution designed to tackle your toughest mobile tech challenges, regardless of the device type and operating system (OS) your business uses. It's award-winning EMM software secures and manages rugged mobile devices, smartphones, tablets, wearables, handhelds, vehicle mount computers and more. Ensure data stays safe, devices stay working and your remote workers stay productive.
EMM For Any Operating System
Whatever OS your mobile devices, laptops or tablets run on, SOTI MobiControl has you covered.
SOTI MobiControl Solves Your Toughest Mobility Challenges
It's your job to overcome the mobile risks your company faces:
Unplanned downtime that grinds things to a halt
Security risks which can lead to stolen or compromised data
Cumbersome device deployment, enrollment and provisioning procedures
Enterprise Mobility Management from SOTI MobiControl gives you full visibility into the status and performance of your device deployments.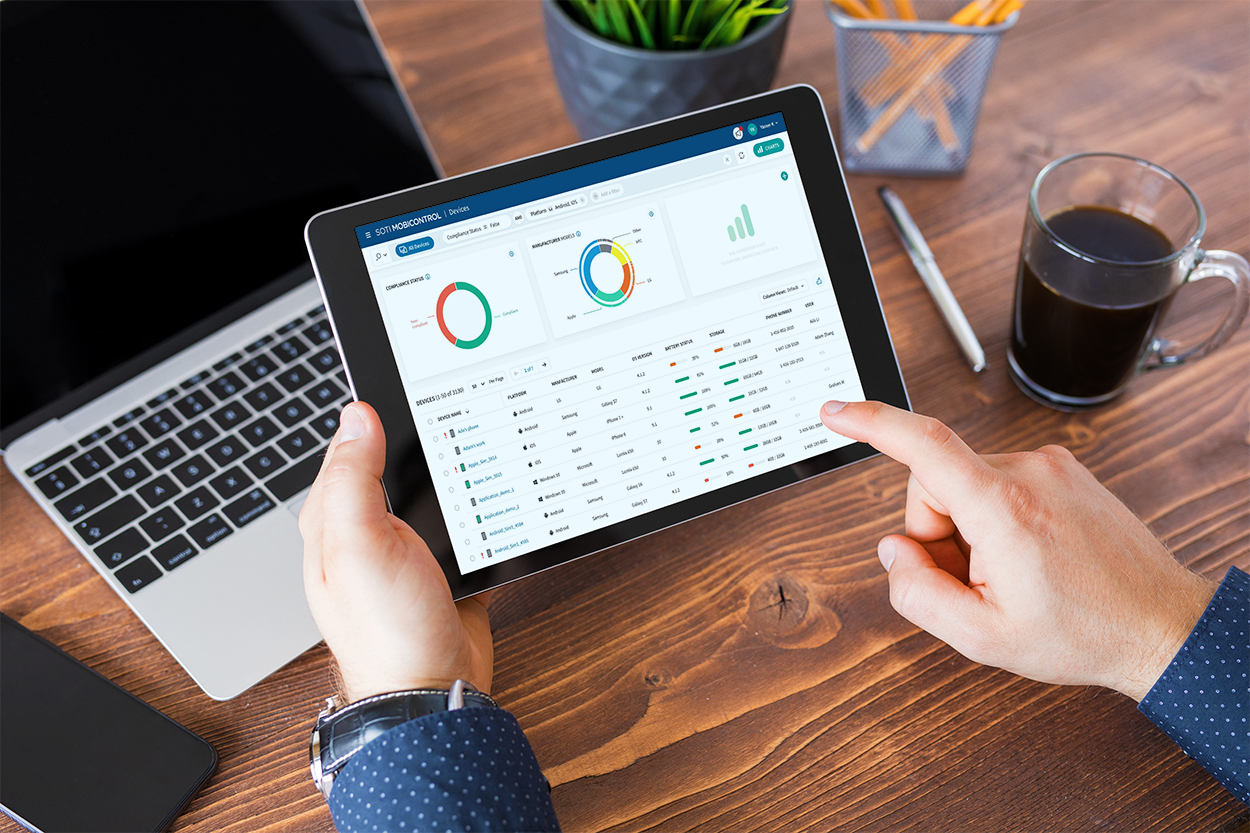 You'll be able to resolve small issues before they become big problems. You'll be able to proactively make decisions to boost device performance based on simple things like network access. You can quickly deploy the business-critical apps your remote workers are counting on to get the job done.
Other Features of SOTI MobiControl
Mobile Application Management (MAM)

SOTI MobiControl integrates with Apple VPP and Google Play to ensure the right apps get to the right employees at the right time.

Mobile Content Management (MCM)

Control who can view certain websites and files and whether they can edit, share, download or perform other actions.

Mobile Identity Management (MIM)

User permissions lets you dictate which divisions in your business have permissions (read, read/write) to users, custom data and attributes.
The device enrollment process with our old management solution was quite complicated, very manual and took about 4.5 minutes for a device to be configured. With SOTI MobiControl, we were able to reduce this time to about seven seconds.

— Julian Haberling, Product Specialist, Restaurant Partner Solutions at Delivery Hero

Using SOTI MobiControl means that we can get the updates done immediately, we don't have to wait, and we don't need people to come onsite. The scanner guns are connected to SOTI MobiControl and all our updates are done immediately; there is no time wasting, and no downtime with the scanner guns.

— Roy Roddy, Fulfilment Manager at RSPB
The SOTI ONE Platform
The SOTI ONE Platform is an integrated suite of solutions designed to reduce the cost, complexity and downtime related to business-critical mobility. Through integration with SOTI MobiControl, the SOTI ONE Platform allows you to: