What's coming to the SOTI ONE Platform on November 1st?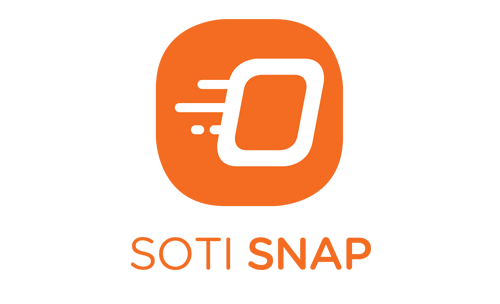 Version 1.7: Integration with over 1,000 applications, allowing organizations to quickly build apps that connect to their critical backend systems.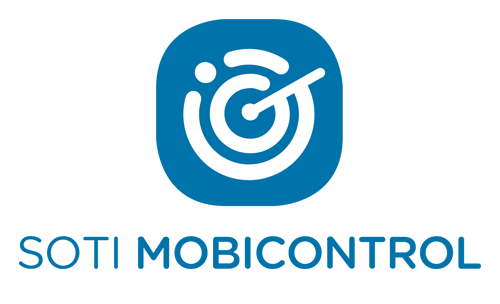 Version 14.2: Improved security, management and support across all OS platforms – Android, iOS, Linux, Mac and Windows.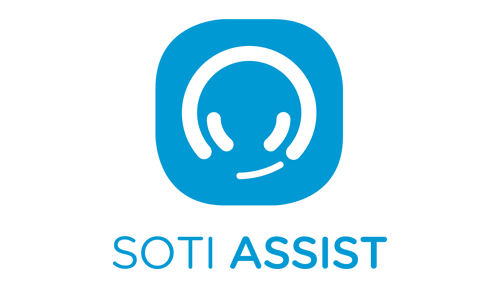 Version 1.5: Improved support workflow capabilities enabling help desks to respond to tickets faster, and better document and troubleshoot mobile issues.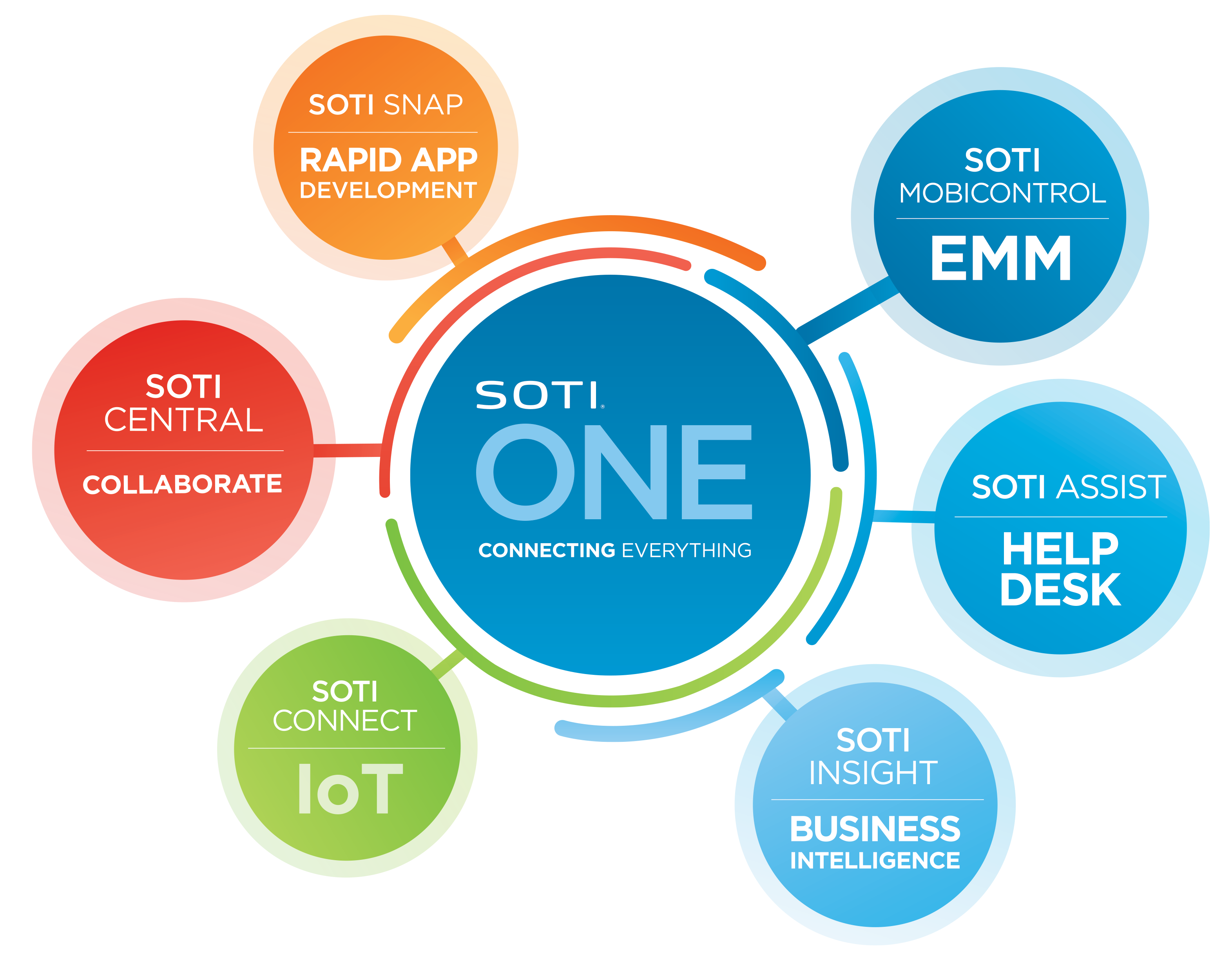 ONE Platform — Connecting Everything
SOTI ONE is an integrated suite of mobility solutions. Each solution works on its own to solve one of today's business challenges, and working together, they help you reinvent your business to meet the challenges of tomorrow. When everything is connected, SOTI ONE simplifies it all and makes business mobility smarter, faster and more reliable.
SOTI MobiControl
SOTI MobiControl makes mobility management easy. It simplifies the security and management of multi-vendor, multi form-factor and multi-operating devices in your multi-purpose mobility ecosystem – all through a single, easy-to-use interface.
Free Trial
Read More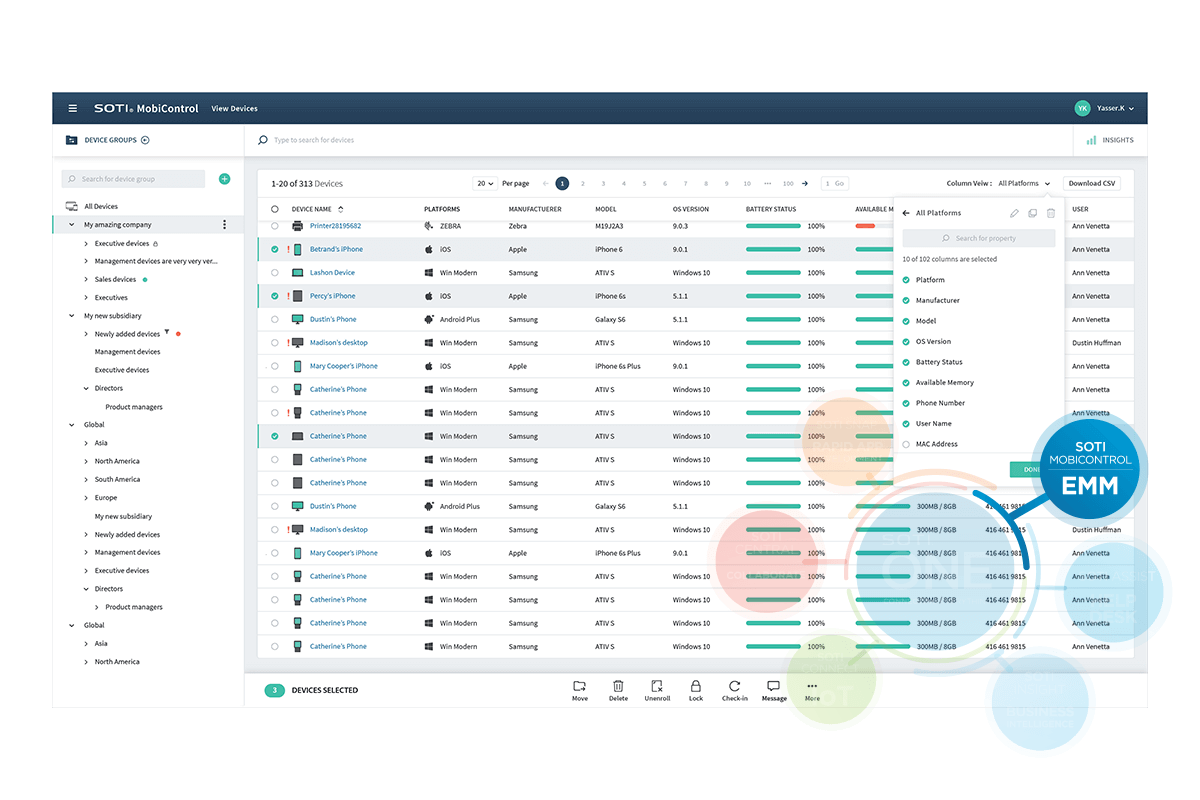 What's new in SOTI MobiControl 14.2?
iOS Screen Sharing
Remotely support iOS devices faster and more efficiently. iOS device users can remotely share their screen with SOTI MobiControl administrators to improve troubleshooting of their devices.
Extending Android Enterprise on Samsung Device
Get complete management of Samsung devices. Leverage Knox management capabilities on Android Enterprise managed Samsung devices.
Syslog Integration
Improve compliance with regulation and enable a protected and secure audit trail of device, user and server events captured by SOTI MobiControl. Configure SOTI MobiControl to route Syslog messages to a Syslog server and give IT up-to-the-minute logging and auditing of critical events related to their business mobility.
Microsoft Hololens Support
Give workers hands-free and context-aware information to facilitate and complete jobs faster, without having to stop their work to find the correct documentation or instructions. Deploy Microsoft Hololens holographic computer and head-mounted displays to workers, and secure and manage them completely through SOTI MobiControl.
Enhancements to Mac Management
Support BYOD and corporate-liable Macs. Leverage Apple's Deployment Programs by enrolling the devices over-the-air using DEP, and by distributing apps using VPP. Eliminate Mac downtime by using business-critical management capabilities, including remote control, location tracking, geo-fencing, scripting and OS update management.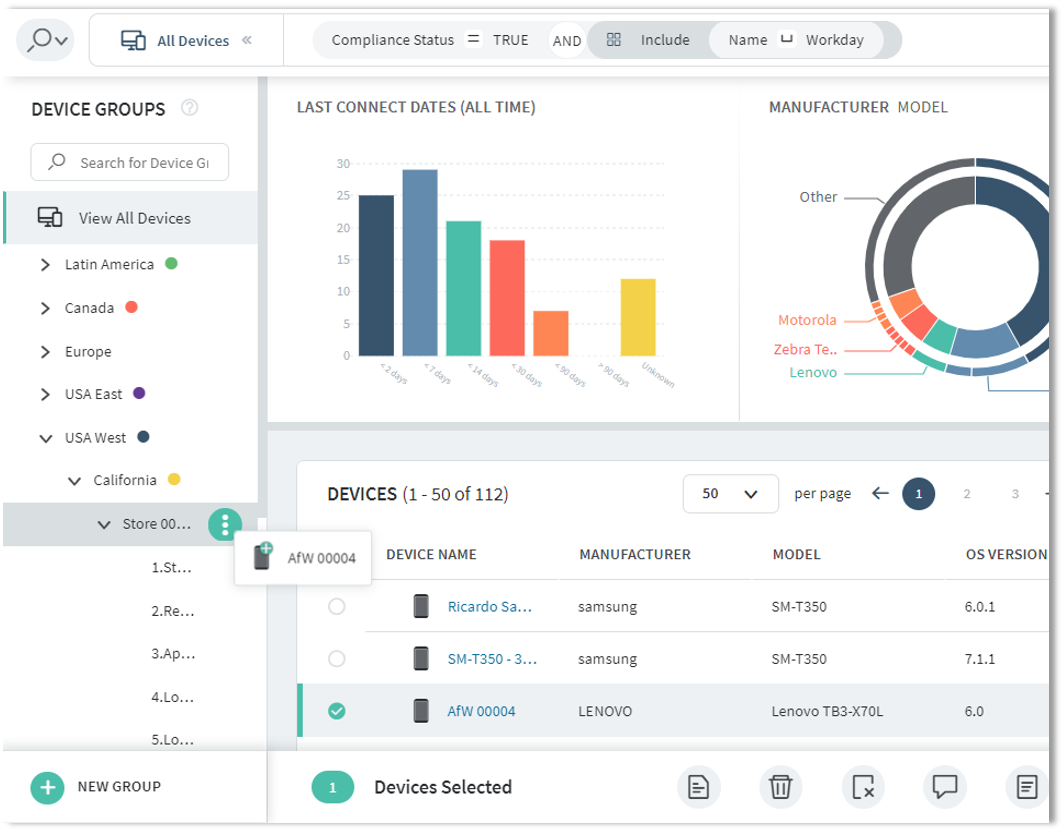 SOTI Assist
SOTI Assist is the industry's first help desk solution optimized to fix mobile device problems. The industry's best remote control makes it easy to analyze and resolve mobile device issues from anywhere, at anytime.
Free Trial
Read More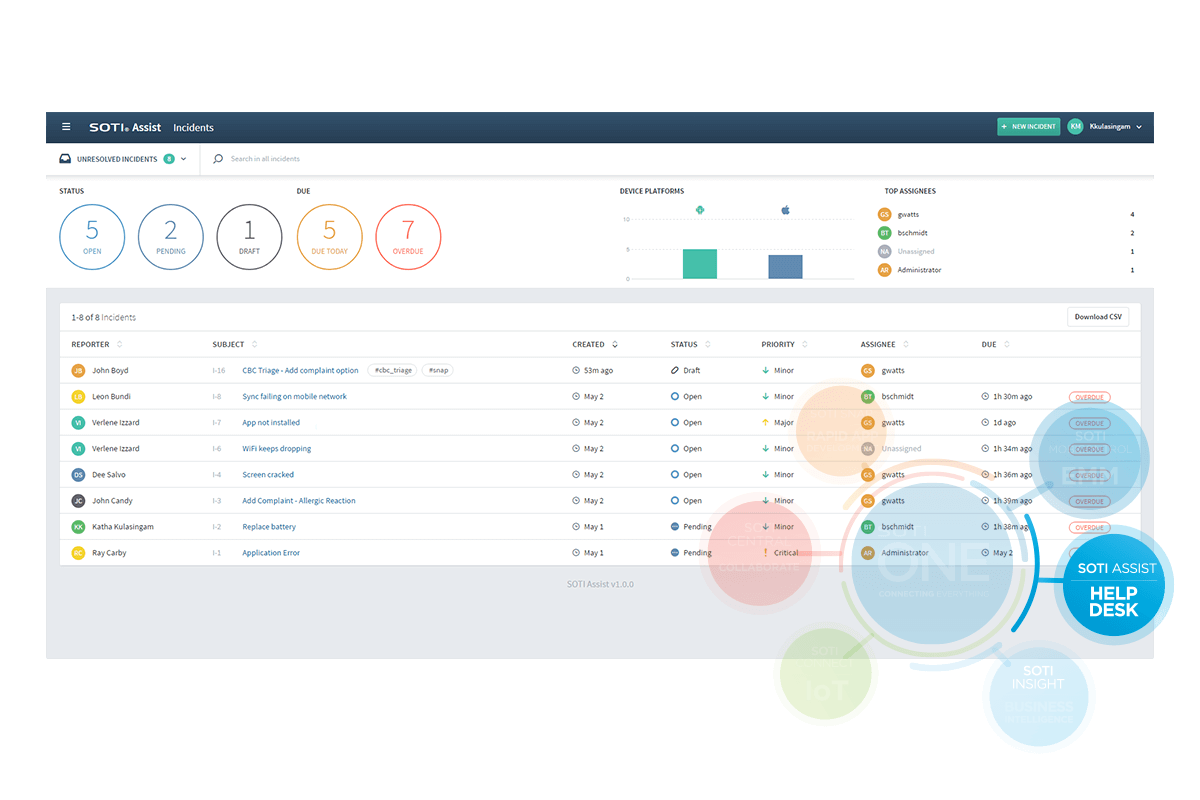 What's new in SOTI Assist 1.5?
Unified Self Service Portal (SSP)
Improve customer satisfaction by giving device users faster access to support and the ability to update and monitor their tickets in real-time, right from their device. Device users can use the Unified SSP to get quick access to self-serve management and support capabilities on their managed devices.
Workflow Enhancements
Keep help desk technicians better informed of their most important issues by adding them as Watchers on priority tickets. Whenever an update is made to a watched ticket, Watchers are notified of the update via email giving them real-time visibility into their tickets.
Improved Email Support
Improve the quality of communication between end users and help desk technicians, and give help desk technicians the flexibility to respond to tickets via email or from the SOTI Assist console. End users and help desk technicians can create and respond to tickets using email. Any text formatting and image attachments are automatically preserved in the ticket.
Remote Control Improvements
Enable richer documentation and faster resolution of mobile issues. Record remote support sessions right from the help desk ticket. Use the built-in task manager to view, and even terminate, problematic apps or processes. Resolve common issues on-the-fly by sending SOTI MobiControl scripts to devices.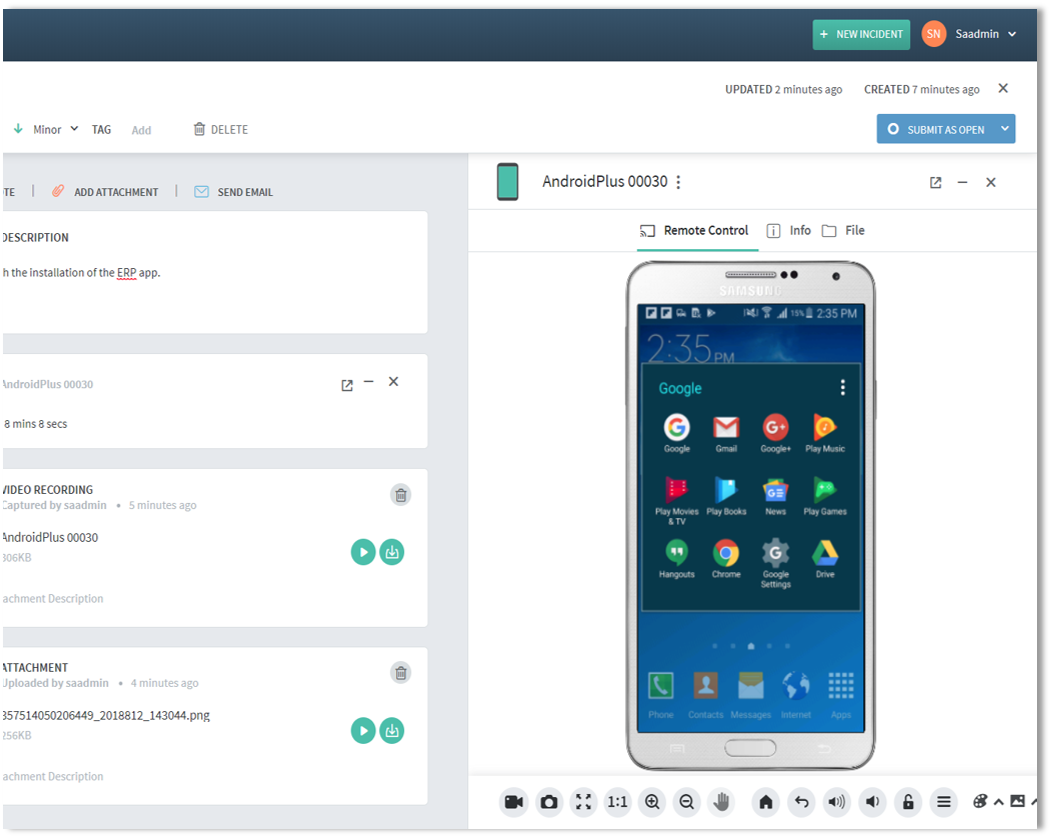 SOTI Snap
SOTI Snap is a cross-platform, rapid app development solution for business. It enables companies to build the mobile apps they need faster, cheaper and on time.
Free Trial
Read More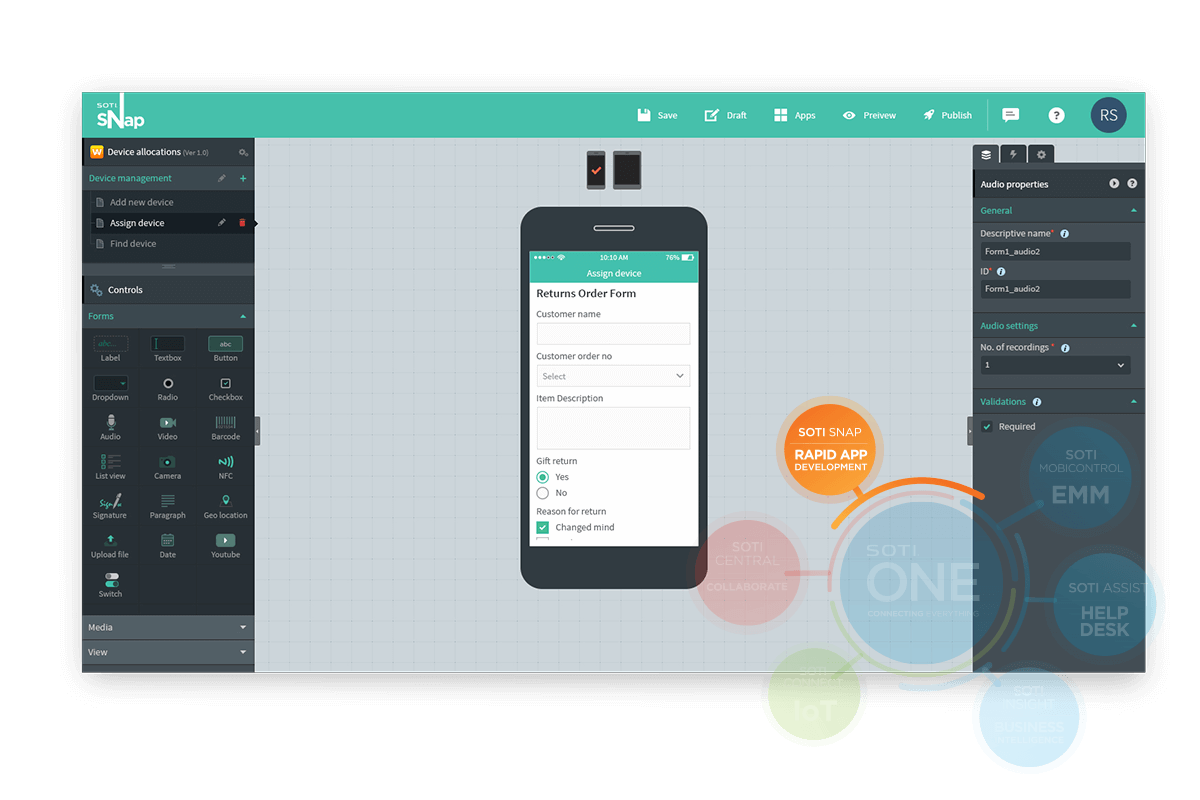 What's new in SOTI Snap 1.7?
Data Import/Export Enhancements
Reduce the cost, time and resources required to build apps that connect to backend systems. Import/Export data to Snap apps using custom REST APIs. Export PDF files of app submissions to Google Drive. Merge app data into customized email templates. Push app data into third-party apps via Webhooks and Zapier integration.
Server Side Scripts
Eliminate the inefficiencies caused by multi-app, multi-step workflows to increase app adoption and end-user productivity. Create scripts that call multiple app APIs in succession to retrieve and post useful data to the Snap app or backend systems. Link Server Side Scripts to actions in the app, such as the click of a button, to automate tedious workflows involving multiple apps.
Integrations with SOTI ONE Solutions
Easily integrate SOTI Assist's help desk capabilities into apps to enable faster resolution of app issues. Include SOTI MobiControl's device management capabilities in apps to create unique line of business solutions.
Assemblies
Accelerate app development and make more efficient use of development resources. Assemblies – groups of widgets that are pre-configured to work together to deliver advanced app functionality – accelerate app development by solving common design challenges faced by developers. Assemblies include a wizard that gives developers step-by-step instructions how to configure widgets contained within the Assembly and connect them to backend systems.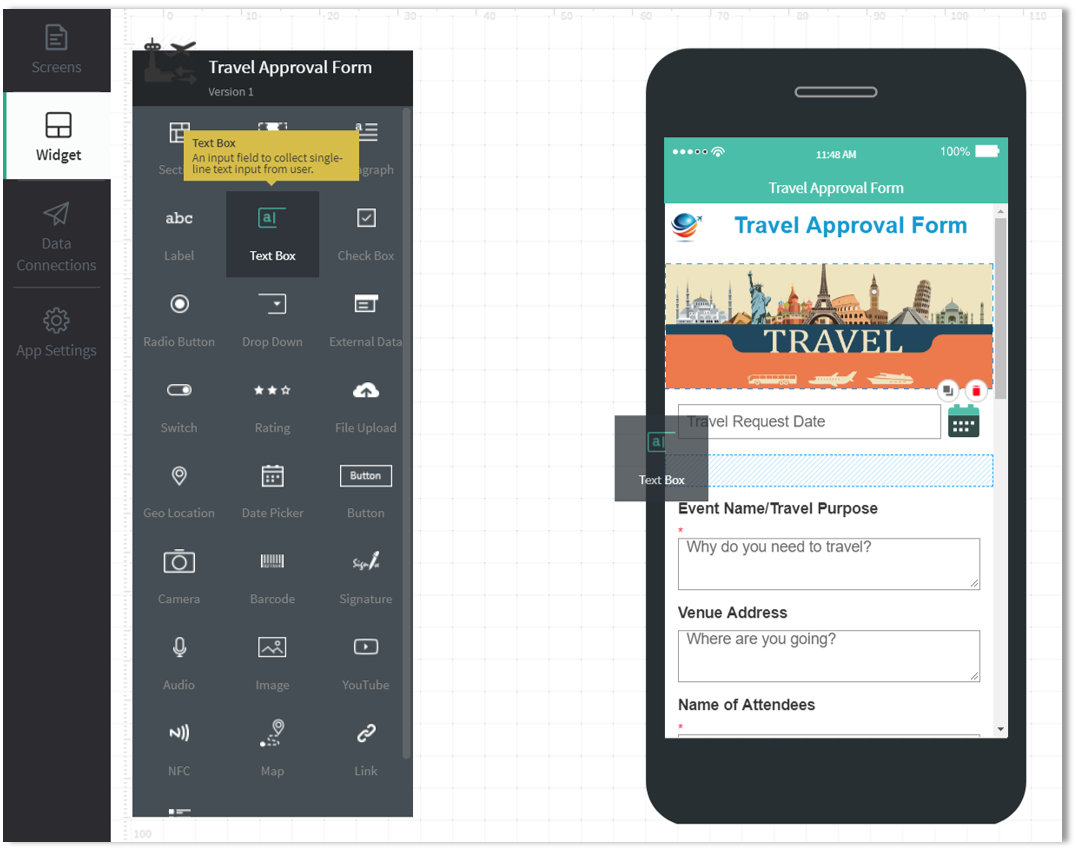 SOTI Central
SOTI Central is an online community for SOTI partners and customers to get answers from product experts, interact with each other and browse a library of products and services built around SOTI ONE solutions.
Visit Central