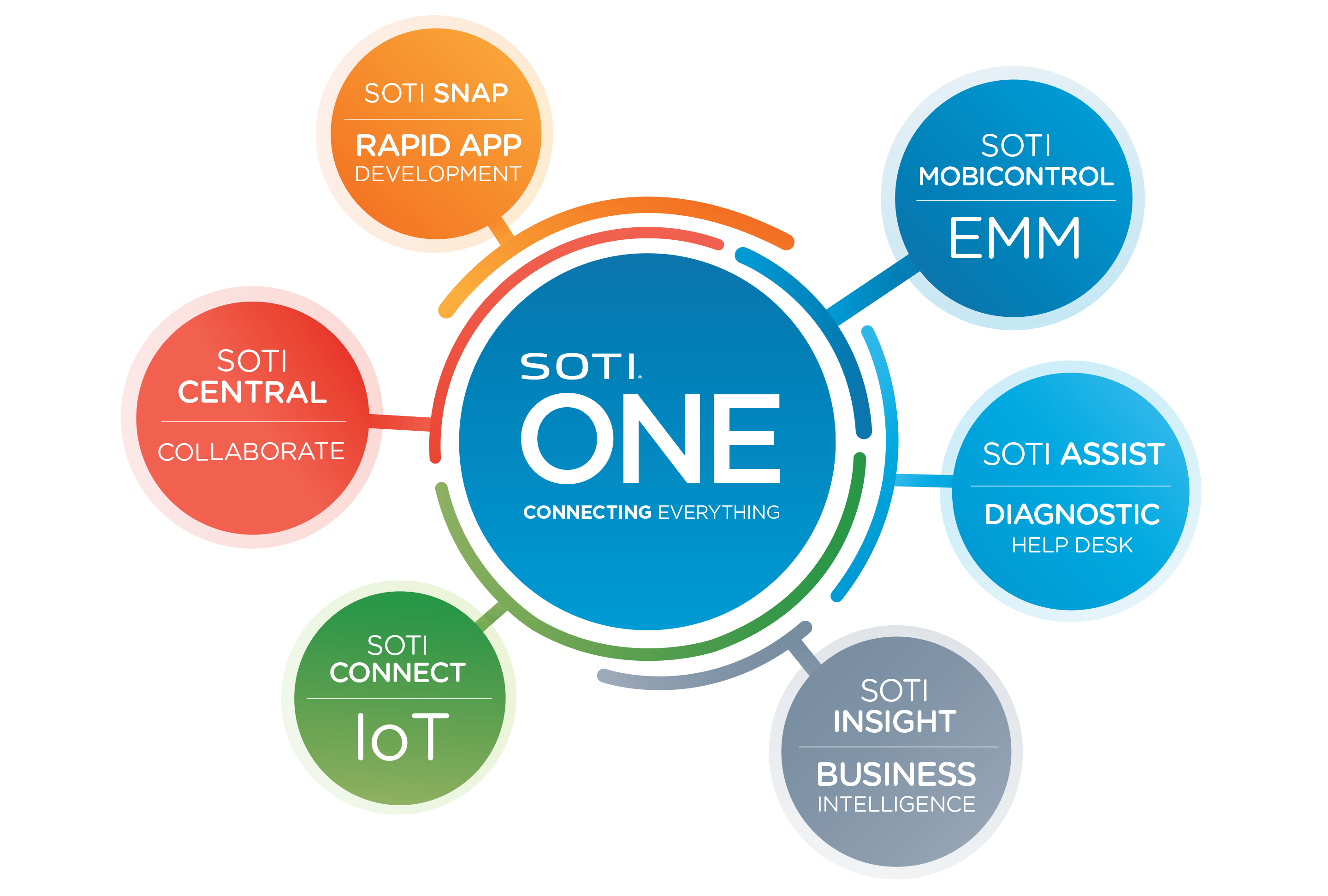 Enterprise Mobility Management with the SOTI ONE Platform
The SOTI ONE Platform intuitively integrates all your enterprise mobility management (EMM) needs into one unique, easy-to-use platform. It will help reduce the cost, complexity and downtime related to business-critical mobility. Comprised of six unique and revolutionary components, the SOTI ONE Platform removes functional silos to create a single platform that helps to eliminate downtime, build apps faster and manage all mobile and IoT devices in one place.
Highlights from the SOTI ONE Platform:
Rapid device provisioning and enrollment
Identity and access management
Secure device, apps, content and data
Compatible with Google Android, Apple iOS & macOS, Microsoft Windows and Linux
Purpose-built diagnostic help desk solution
Remote view/control
Rugged and IoT device management
Geofencing capabilities
Rapid app development and deployment
Compliance alerts/rules
App Store and Google Play integration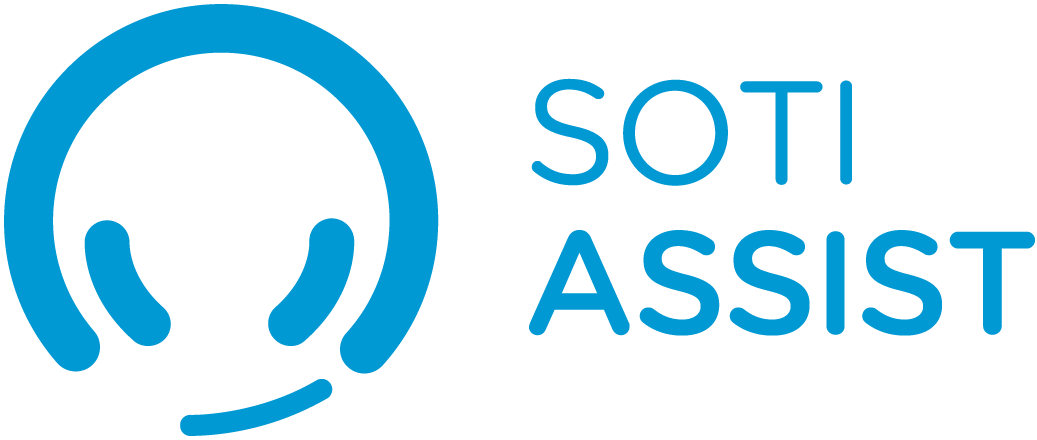 Network connectivity and application software are the leading causes of mobile device failure, which causes nearly 2 hours of downtime per incident on average. An interruption of even one poorly performing application per shift can translate into almost $20,000 worth of support and lost productivity per mobile worker annually. SOTI Assist is a mobile-first diagnostic help desk solution with integrated remote control, diagnostic capabilities and EMM tools. It allows expert technicians to remotely diagnose, troubleshoot and resolve any issues relating to a device or application within a business' network, helping to limit downtime and loss of revenue by ensuring your workers' devices are back up and running quickly.
Free Trial
Read More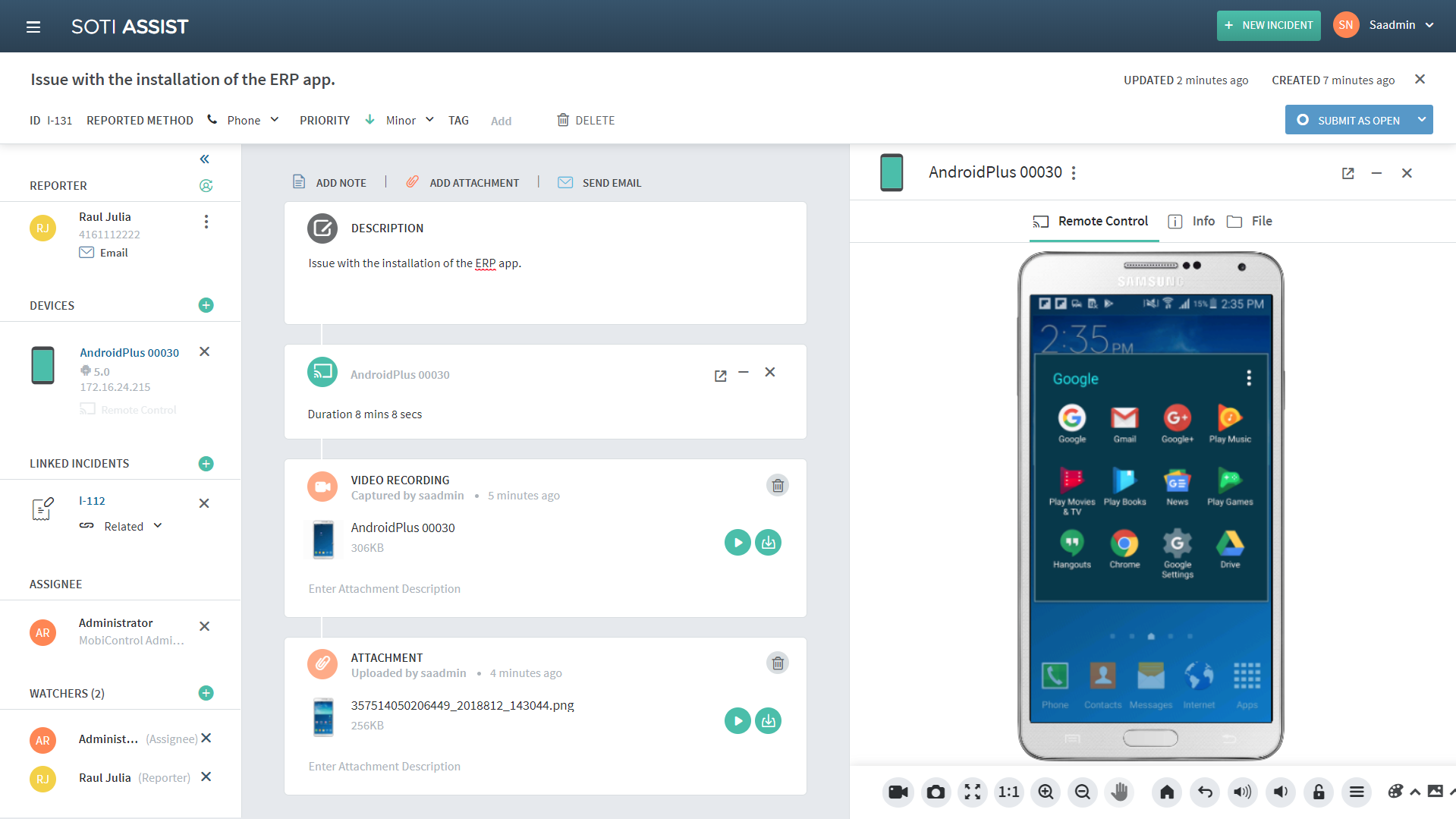 Downtime is only one of the many concerns related to EMM. Compliance is also top of mind. Ensuring that your workers are acting within the compliance regulations of your industry is a main priority, especially when the consequences of not doing so may result in hefty fines. Another concern is data security. More than 41% of all data breaches are the result of lost or stolen devices. Ensuring the data and content housed within your mobile devices and applications are secure needs to be a top priority for your business. Protect your workers and your bottom line with SOTI MobiControl. SOTI MobiControl makes mobility management easier than ever before. It helps to simplify the security and management of multi-vendor, multi form-factor, and multi-operating system devices in your multi-purpose mobility ecosystem – all through one easy-to-use interface.
Free Trial
Read More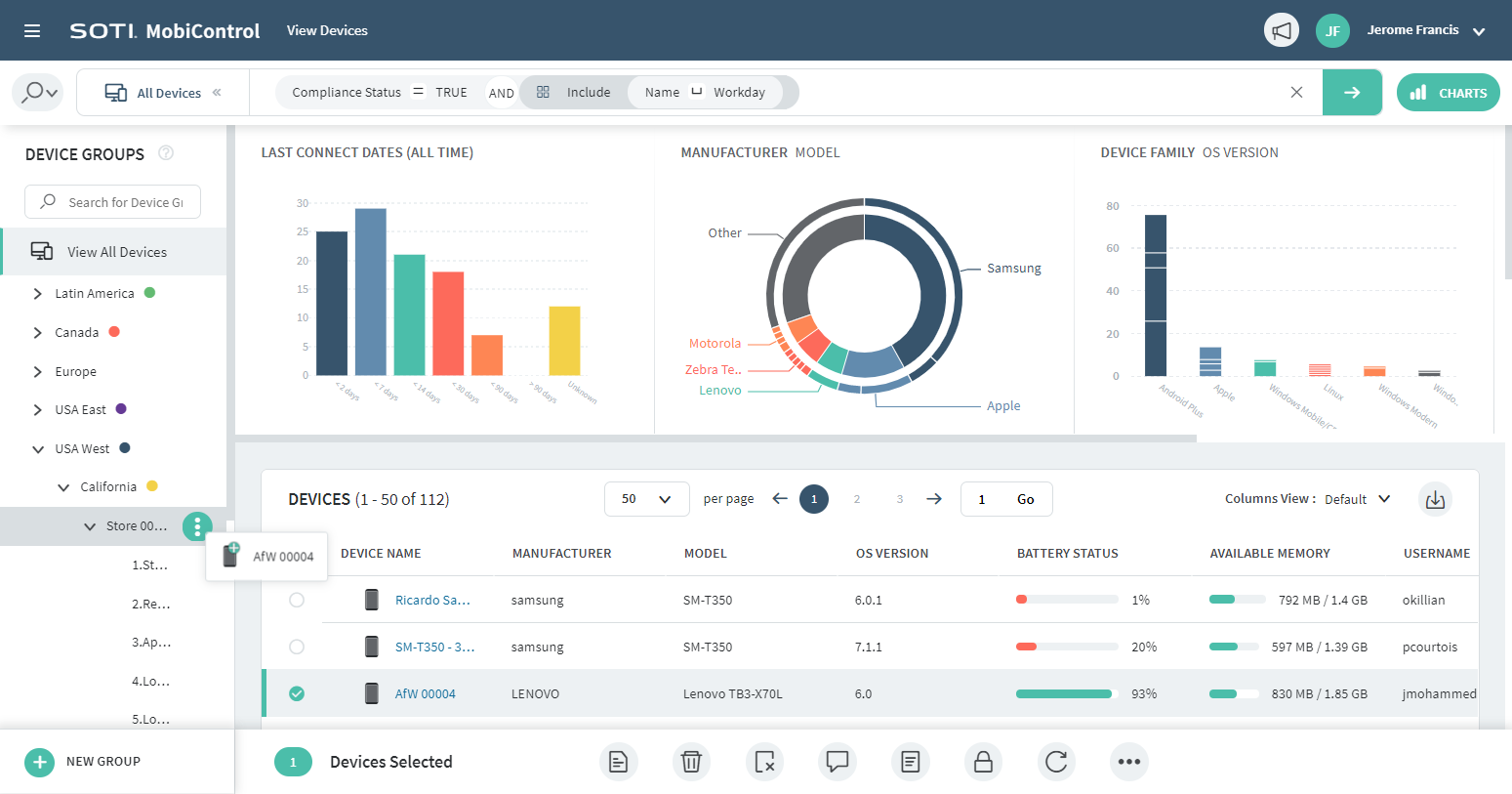 Did you know that developing a custom application for your business can take as long as five months and cost up to $55,000? In fact, 64% of businesses report a large app development backlog, and 37% of them face a shortage of mobile app developers. SOTI Snap makes building custom applications so simple that anyone can do it. The easy drag and drop capabilities of SOTI Snap allows businesses to develop and launch apps quickly with no custom code required, helping to automate previously manual processes, while keeping costs low, saving time and reducing the need for specialized resources.
Free Trial
Read More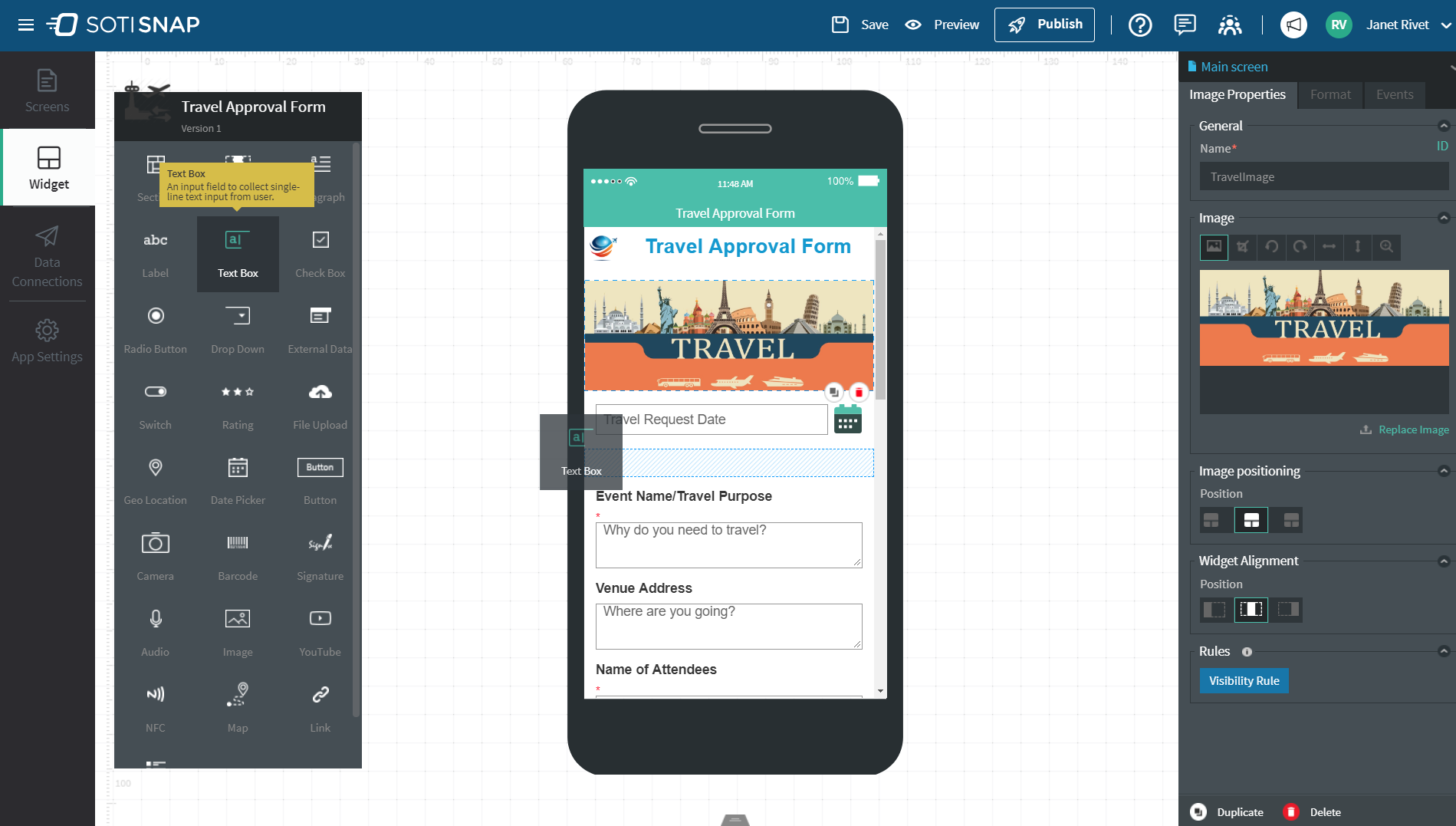 Networking with industry professionals, along with product experts is important. SOTI Central is an online community for SOTI partners and customers to get the answers they need from product experts, interact with the SOTI community and browse a library of products and services built around the SOTI ONE Platform.
Visit Central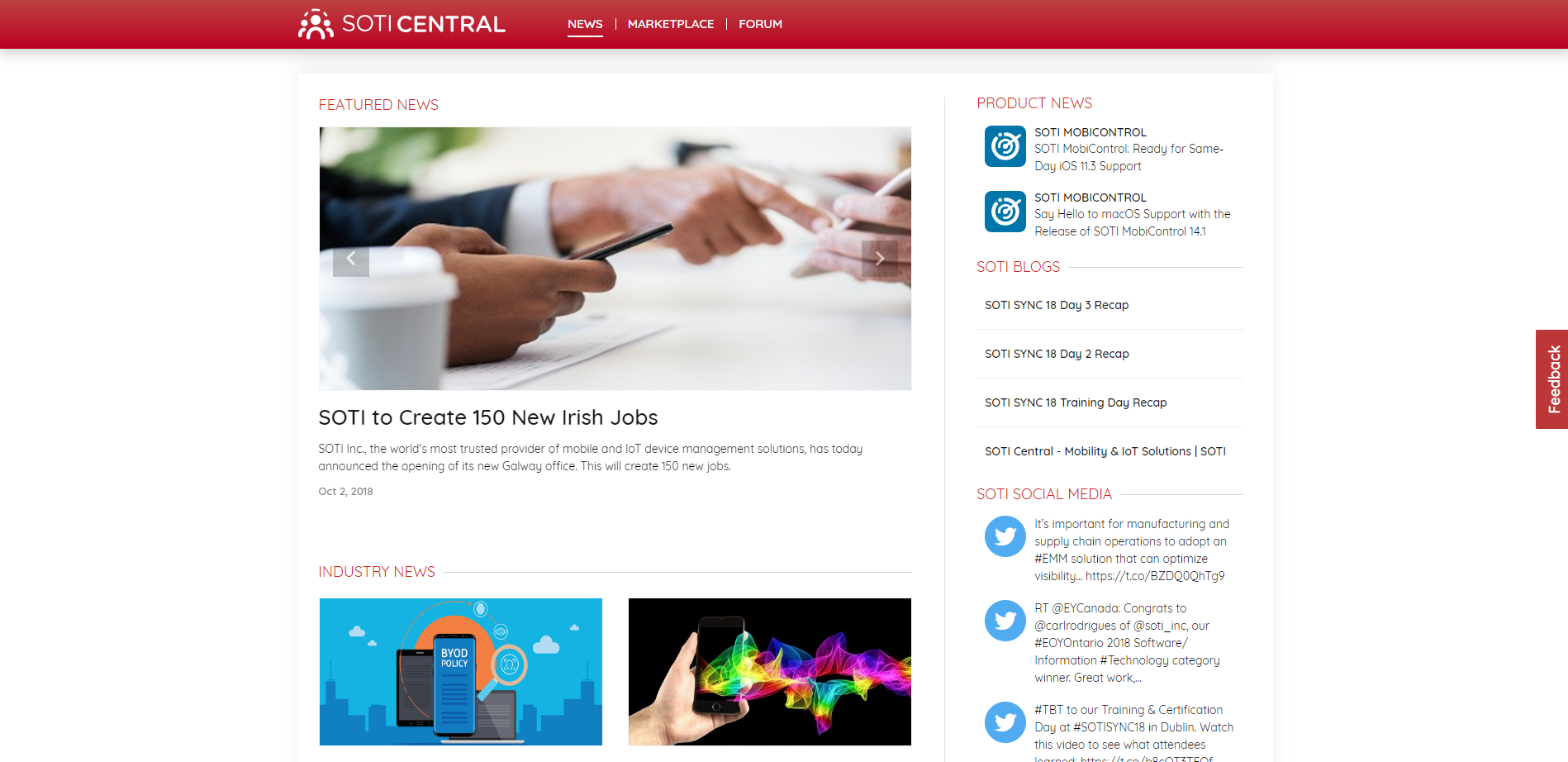 SOTI ONE Roadmap

SOTI Insight is a business intelligence solution that makes it easy for businesses to collect, aggregate and analyze data from mobile apps, enterprise applications and mobile and IoT devices. It transforms data into an easy-to-understand format that gives business insight at a glance. It can audit all your devices in real-time, helping you to build trend reports and identify and respond to issues relating to downtime quickly.

Do you have headless IoT devices that still require management? SOTI Connect is an IoT solution that will allow businesses to secure, manage and connect to various devices, regardless of their communication protocol or operating systems. Once launched, any device that is connected to the internet will be able to be managed, updated and secured through SOTI Connect.
SOTI ONE 4 Minute Product Demo