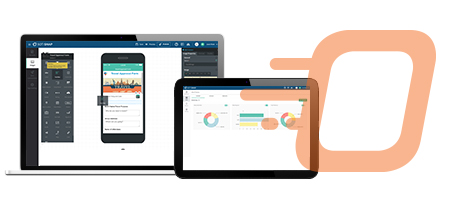 Unleash your Inner Developer
Mobile devices are great for many things, but the most important is running apps. From simple little converters to powerful enterprise solution clients and custom LOB apps, workers need apps to do their jobs. SOTI Snap is a cross-platform, rapid app development solution for business. It enables organizations to build the mobile apps they need faster, cheaper and on time.
What can SOTI Snap do for you?
Automatic cross-
platform apps

Streamline data
entry, reduce errors
Features and Capabilities
Drag and Drop App Development
Automatic Cross-platform Apps
Integrated Azure AD Authentication
Built-in Data Capture
Dynamic & Compelling Apps
SOTI ONE Integration

The lack of development resources should not be an obstacle to getting the apps you need to streamline your workflows. SOTI Snap makes building apps as easy as dragging and dropping pieces onto a canvas.

Your company may need to support different types of devices, especially if BYOD is a thing. SOTI Snap automatically creates apps for Apple ® iOS, and Google Android ™ devices.

Your business operations are complicated and your business mobility must support it. SOTI Snap includes Azure AD integration for safe and secure app deployment.

Make your users more productive while reducing data entry errors. SOTI Snap streamlines data entry by scanning barcodes, taking photos, reading NFC tags, or capturing geolocation coordinates.

Creating apps quickly is great, but you want your workers to use them. SOTI Snap includes rich media such as sound, images and videos to add depth to your application.

Integration with SOTI ONE expands the scope of your mobile app development. Integrate with SOTI Assist to add remote support capabilities and/or include device management capabilities from SOTI MobiControl.