What is SOTI XTreme Technology?
SOTI XTreme Technology is an advanced new technology from SOTI that facilitates the rapid transfer of apps and data to remote mobile devices at ultra-high speeds. By leveraging sophisticated compression and network optimization technologies, SOTI's XTreme Technology can deliver data at speeds more than 10X faster than competitive products. Workloads that previously took days, can now be done in hours or minutes.
Built for Retail: SOTI XTreme Hub1 is Well Suited for Retailers with Low Bandwidth Connections into their Stores and Warehouses

A Practical Example
Picture a retail store chain with seven locations and a hundred devices in each store. The IT department needs to update five apps on each of these devices. A typical Mobile Device Management (MDM) or Enterprise Mobility Management (EMM) distribution solution would need to perform 3,500 app deliveries (7 stores x 100 devices x 5 apps) from the corporate data center to the devices in the stores.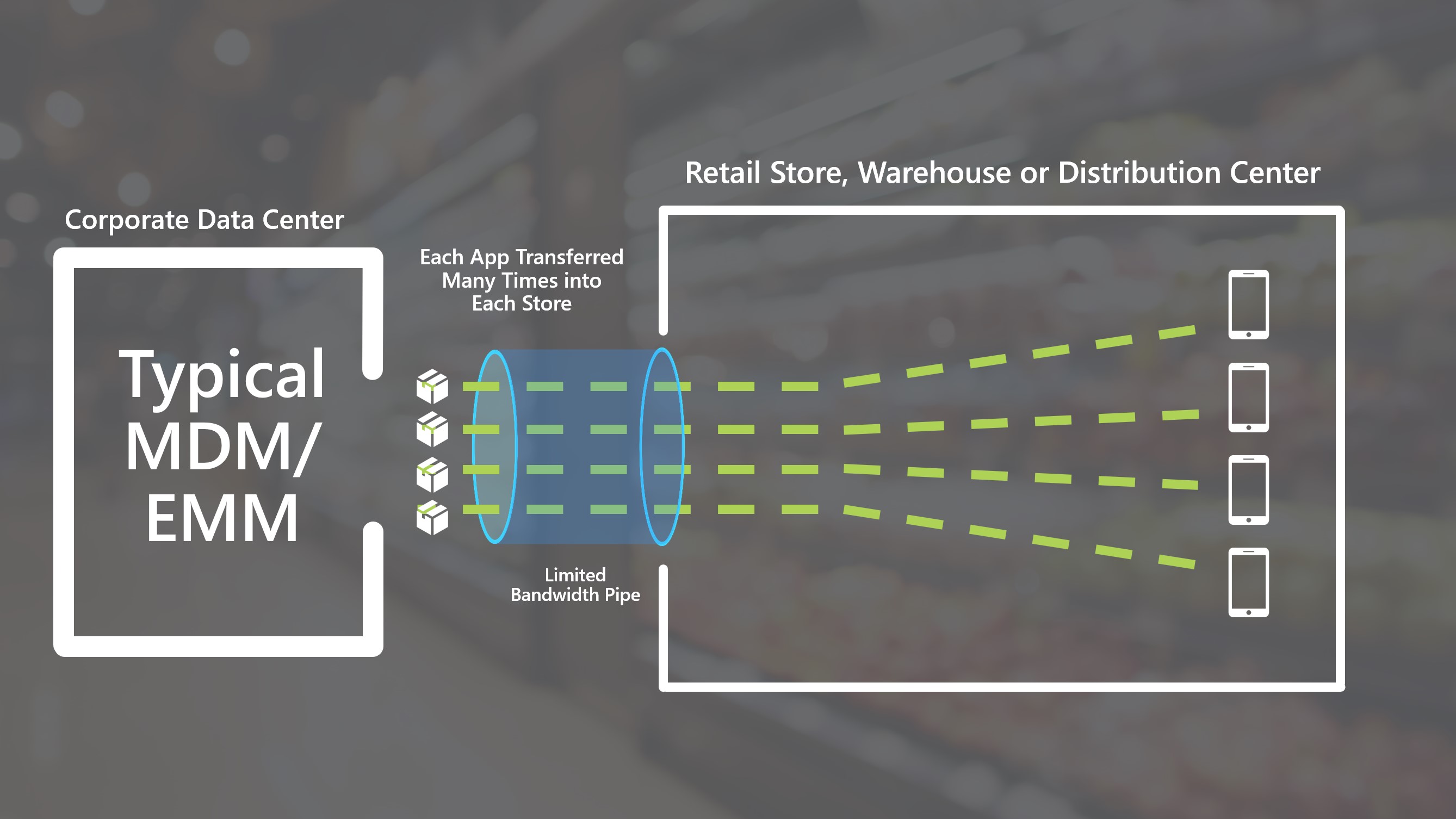 Typical MDM/EMM Solution Delivering Each App One at a Time to Each Device

It must deliver each of the five apps to each of the hundred devices in all of the stores. This operation could take hours, or even days to complete, due to the limited bandwidth connections between the corporate data center and retail stores, as well as the need of typical solutions to send updates over those slow connections.

With SOTI's XTreme Technology, we've optimized how data and app updates are sent, so that transfers can be completed more than 10X faster compared to other competitive solutions on the market.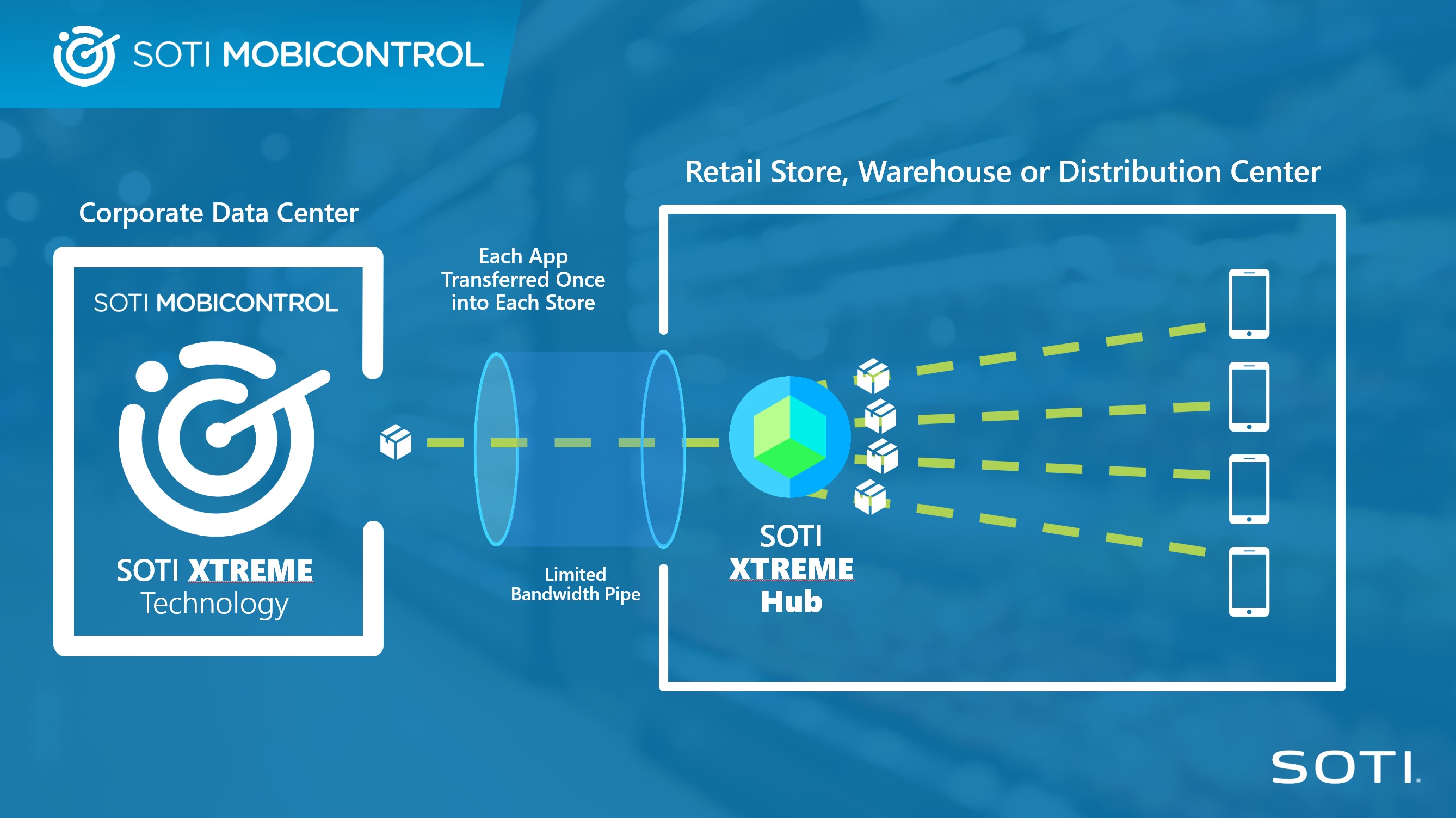 With SOTI's XTreme Hub Technology Each App is Delivered Once into Each Store


By leveraging SOTI's XTreme Hub Technology, the number of apps transferred into a store can be reduced from 3,500 to only 35. Each of the apps are sent exactly once into a store, and then fanned out internally via the fast in-store networks to devices. SOTI XTreme's smart distribution capabilities, along with its adaptive network and compression algorithms can dramatically reduce app and data delivery times.


The Result
Your employees do not need to wait to get the data and tools they need to stay productive. No more "waiting" for critical updates.
Updates to app data do not clog up the business-critical connection to the corporate data center.
IT departments can respond in a timely manner to the needs of the business.
Your customers will enjoy a better experience!
Boost Your Business-Critical Mobility Strategy with SOTI XTreme Technology
SOTI XTreme Technology is here. Built into SOTI MobiControl, our technology will ensure the updates your mobile workers need are delivered in a timely, cost-effective manner.

Want to learn more? Here's how:
Contact us anytime with your questions and comments, or start a FREE 30-day trial of SOTI MobiControl or the SOTI ONE Platform today!
SOTI XTreme Hub is only available to customers who subscribe to SOTI Premium Plus or Enterprise Plus Service