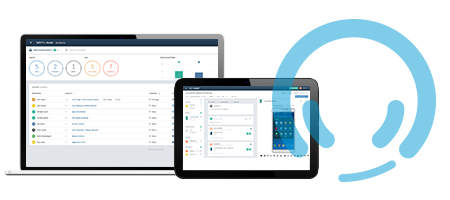 Mobile-First Help Desk
For many companies, the era of desktop computing has ended — your workforce is mobile and remote. Those workers depend on mobile devices and apps to do their jobs outside of the office. They have no time for downtime. SOTI Assist is the industry's first help desk solution that is 'purpose-built' to fix mobile device and app problems quickly, on the first try.
What can SOTI Assist do for you?
Fix problems
anywhere, anytime

Increase first call
resolution rate

Improve help-desk utilization
Features and Capabilites
Industry-leading Remote Support
Broad Mobile Device Support
Multi-platform Support
Intelligent Ticket Management
SOTI ONE Integration
Unified Self Service Portal

Your mobile workforce is critical to the success of your business. SOTI Assist keeps them up and running. Help desk technicians can use remote view, remote control, and file sync to fix device and app problems quickly.

You want the freedom to choose which devices are best for your company. SOTI Assist can remote view / remote control devices from over 170 hardware manufacturers (OEMs).

Your business uses different devices and operating systems for different functions. SOTI Assist delivers the industry's best remote control for Android, Linux and Windows devices as well as remote view for iOS devices.

Your help desk technicians need tools to make remote support easier. SOTI Assist includes an integrated ticketing system to create, manage, tag, prioritize, filter and search for incidents. Define your service level agreements (SLAs) based on ticket severity, and view status of tickets in a dashboard view.

Your help desk technicians need detailed information about device settings and configurations to fix device problems. SOTI Assist automatically requests detailed device and app information from SOTI MobiControl to make problem resolution faster.

Empower your mobile workers to help themselves. SOTI Assist allows users to initiate, update and monitor their support tickets.